Governor holds hearing on mental health ahead of state budget negotiations
RACINE – Gov. Tony Evers was in town Wednesday for a hearing with community leaders about programs in place to help those with mental health issues.
The message from the community has been that the programs are there, but the needs are great and growing, and they could use additional funding to expand.
Evers said that as the state begins the budget process, he wanted to spend time with community leaders and hear first-hand about needs, especially with regard to mental health.
He was joined by Representative Greta Neubauer, Democratic Caucus Minority Leader, Racine Mayor Corey Mason and County Executive Jonathan Delagrave.
Evers toured the Villa Street COP (Community Police) house named after Dr. Thelma Orr, whose eldest child was on hand to talk about her mother's legacy.
Jewel Jones said her mother told her children to "go out and see what's being served and make sure you participate."
"I know she smiles at each and every one of you," said Jones. "She believed in the COP House and the police. She believed that everyone on this earth has a place, but we have to work together."
Officer Colin Powell was assigned to the Villa Street COP House and was the person who conducted the tour for the governor, outlining some of the programs and activities hosted in connection with the house, which included the monthly neighborhood watch meetings.
The assignment at the COP House lasts three to four years, which is enough time for the officer to build relationships with those in the neighborhood, which in turn builds trust between the community and the police officers.
"It's the police helping people here and not necessarily arresting everyone and issuing tickets," Powell said. "We try to solve problems rather than show up, collect names and information and move on to the next call."
Powell told the governor that nonprofits donate food, diapers, and other necessities, which are then distributed to those in need.
There are still more opportunities for COP homes, Delagrave said, including the possibility of expanding its goal for a multidisciplinary team that could include mental health professionals who could have a "real impact" on the neighborhood.
Maurice Horton, County Community Violence Prevention Coordinator, of Thelma Orr COP House has worked for about 10 years converting gangs.
There was a time, Horton recalls, when grassroots organizations went it alone and competed for funding. Recently, he told the governor, the goal of ending the cycle of violence has taken a community-based approach.
"In the end, it's about the family, and building this neighborhood one family at a time," Horton said.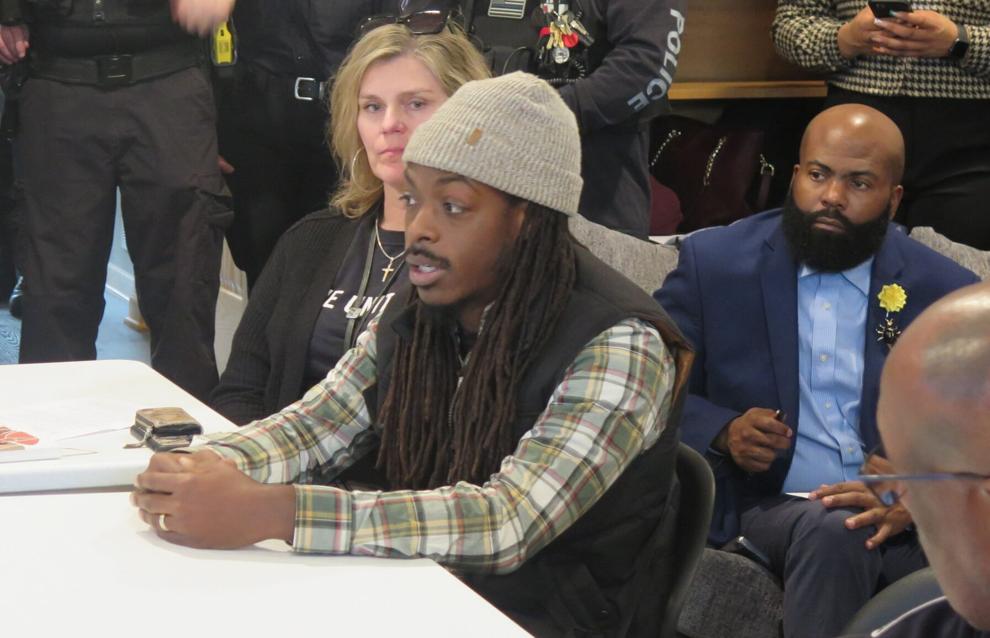 One thing many in the room talked about was the need to take care of young people's mental health.
"I think we need to focus on youth services," Nakida Heimer, Racine County Violent Crime Reduction Coordinator and state leader for Voices United Black Mothers, told the governor on mental health.
Tanya Wooden, also of Voices of Black Mothers United, added that the trauma and mental issues following acts of violence are a major source of concern for her.
Troy Collier, a community connector With the Racine Unified School District, he explained, he and his five classmates work to connect students with resources they may need, to act as a bridge between the school and services. They work to establish rapport and build trust, he said, so students know they have someone to talk to during difficult times.
What would help him, Collier told the governor, would be access to mental health services at every school with mental health professionals. There are currently nine mental health clinics in the school as well as a community clinic serving all K-12 families at the Community Pathways Clinic.
In addition, the city has created a grant using ARPA funds that helps families with the significant insurance discounts sometimes associated with pursuing professional counseling.
In an interview with the Journal Times, Collier said that young people often point out problems they're having, but employees don't always get the training to recognize those signs. Either the staff needs advanced training in this issue, Collier said, or there needs to be people in the building with the training to recognize those cues because young people don't have the skills to communicate their issues.
In addition, Collier said that penalizing students for behavior in schools could use structural reform, particularly with regard to suspensions.
"I don't feel it's an effective way to reduce the behaviors," Collier said.
A student who is suspended is sent home, but home life is problematic for many students.
"If the house is that bad, we can't bring them home, and we can't do that," Collier said. "It would be like sending an alcoholic to a bar. This is where the trouble started, where they learned everything."
Collier said that students who play sports need help rather than punishment. They need professionals to help them learn what they didn't learn at home, such as how to regulate their emotions effectively. Rather than comment, Collier would like to see students with behavioral issues given time with mental health resources.
Collier explained that it takes a lot out of young people in school, including paying attention in class, completing assignments, and being on time. However, students may have faced challenges before they arrived at school, and these challenges will remain when they leave school and return home.
Collier said there doesn't seem to be room in the system for a student to say, "I'm dealing with a lot, and I can't get this job done," adding that he'd like to see that change.
"It's very, very important for us to understand children and put them in the right place to succeed with the right resources," Collier added.